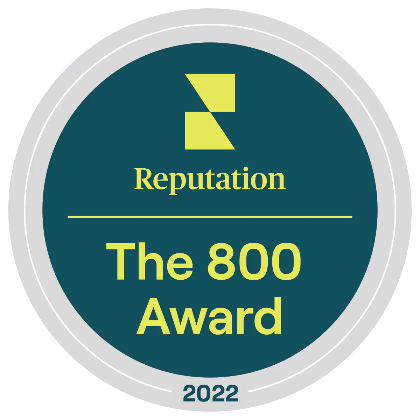 At Crown Lexus, we hold ourselves to a high standard for customer care, service, and satisfaction. Our partners at Reputation.com have recognized our Southern California Lexus dealer as a Reputation 800 Award winner for 2021, highlighting our strong customer service for the past year. Reputation.com delivers a constantly-changing score based on customer reviews, review sentiment, and overall review volume, with qualifying dealerships awarded with scores of 800 and above. We want to thank our customers for making this possible!
How We Achieved This Recognition
Reputation 800 Award winners are rewarded for several strong factors. Review sentiment, review volume, review source spread, and review response rate are all considered integral elements of a dealer's overall score. With a score over 800 for 2021, we are proud to be recognized for excelling in customer care. Any customer who found us through Reputation.com, visited our showcase in person, and purchased a vehicle from our lot counts as a verified buyer. Verified buyer reviews help calculate our overall score, and we are grateful for your time in delivering feedback for our team!
Visit Us at Crown Lexus Today!
Stop by our dealership on South Kettering Drive in Ontario, CA, today for a closer look at what makes us stand out from the competition in Southern California. If you have any questions, do not hesitate to give us a call or contact us through our website for more information!