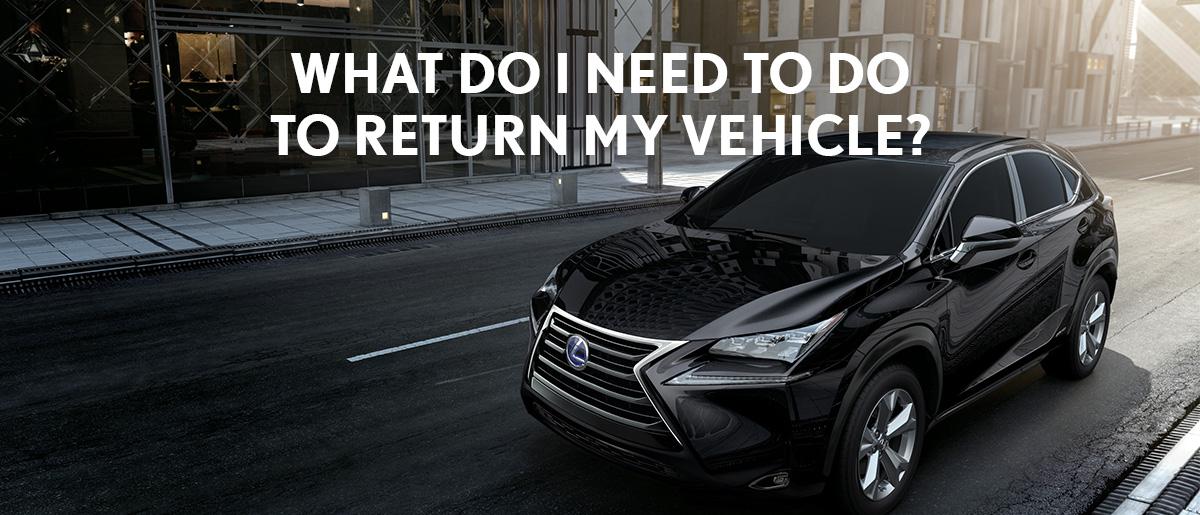 2019 LEXUS LEASE RETURNS FREQUENTLY ASKED QUESTIONS
WHAT OPTIONS DO I HAVE AT THE END OF MY LEASE?
1. Turn in your vehicle and purchase OR lease a new Lexus. Get a newer model of what you're currently driving or experience a completely new model - totally up to you! SPEAK TO SOMEONE IN SALES NOW, if you're curious what we can do for you.
2. Purchase the vehicle you're finishing your lease. If you love the current vehicle, why change? Jump on Lexus Financial Services and check to see what the payoff quote is. Call 800-692-3790, if you would like to speak to someone now.
3. Return the vehicle to the Lexus dealership. The rest of our Lease Guide should help.  Check out more details below.
LEASE RETURN QUESTIONS BEFORE BRINGING THE VEHICLE IN
WHAT DO I DO BEFORE I RETURN MY LEXUS LEASE?
•Examine possible excessive wear and use on your vehicle and make any necessary repairs. 
•Your originating Dealer is required to accept your return vehicle however we recommend contacting your local Lexus dealer to schedule a turn-in appointment for your vehicle.
•Ensure all contracted payments and miscellaneous fees are paid to LFS.
•Schedule your complimentary inspection appointment 15 to 60 days before your maturity date. To schedule an inspection call AutoVin at (855) 90-MY-LFS. 
•Let LFS know if you completed repairs after your inspection, we'll order another once you return.
•Call your local DMV to find out if your state requires license plates to be returned at lease-end.
WHAT SHOULD I DO DURING MY INSPECTION AND RETURN?
Bring the following to your inspection and lease-return appointments:
•Toolkit and spare tire, if applicable.
•All sets of keys (master/remote/valet), if applicable.
•Owner's Manuals
•Any original equipment on your vehicle at lease inception (radio, headrests, 3rd row seat, tonneau/cargo cover, etc.)
•Ask the dealer to record the mileage, and don't forget to sign the Odometer Disclosure Statement and ask for a copy
LEASE RETURN QUESTIONS AT THE DEALERSHIP AND AFTER
WHAT DO I DO AT THE DEALERSHIP?

 •Confirm the Dealership will accept the return. Only your originating Dealer is required to accpet your lease return. 
•Sign an odometer statement and ask for a copy for your records. Capture the name of Dealer associate that helped with the return.
•If you did not complete an inspection prior to returning, one will be completed within a few days of your return.

WHAT HAPPENS AFTER I'VE RETURNED THE LEASED LEXUS?

•Lexus Financial Services will send you a Lease End Invoice if you have any unpaid payments, late fees and miscellaneous charges.

1 The invoice will also include Excessive Wear and Use charges, Excessive Mileage charges, and Disposition Fee if applicable. These items may be taxable.

•If you had a Security deposit, it will be returned to your home address via check. It will be used to first pay any Lease End Invoice charges, if applicable. 

•If you make automatic payments through Lexus Financial Services CANCEL ANY ELECTRONIC PAYMENTS HERE or call Customer Service in the Continental U.S.: (800) 874-7050

1 Under certain circumstances, Lexus Financial Services does not charge its lease customers for excess wear and use damage
WHAT ARE SOME EXCESSIVE WEAR AND USE EXAMPLES?
TIRES, WHEELS AND WHEEL COVERS

•Tires with exposed cords or sidewall damage
•Tires or wheels that do not meet manufacturer's guidelines for safe operation 
•Missing or damaged wheel covers
•Wheel gouges greater than 1" 



GLASS AND LIGHTS

•Windshield cracks, stars or bull's-eyes 
•Damaged, broken or non-factory tinted glass
•Bent, broken or missing lights, turn signals, mirrors or lamps

 PAINT AND BODY

A consolidation of severe scratches in which the paint has been removed and the underlying panel is exposed 
A single dent greater than the size of a credit card
Previous repairs performed poorly or unrepaired collision dam

 

EQUIPMENT, PARTS AND ACCESSORIES

Missing keys/remotes
Missing parts or accessories (shifter knobs, head rests, tonneau/cargo cover, etc.) 
Inoperative, malfunctioning or broken parts or equipment 
Any modifications not on the vehicle at lease inception

SEAT AND TRIM

A single cut, tear, burn or stain greater than the  size of a credit card
LEASE RETURN CHECKLIST AND HANDY MEASURING TOOL
| | |
| --- | --- |
| LEASE RETURN CHECKLIST | HANDY LEASE RETURN TOOL |